Korean War Armistice was signed July 27, 1953.
Click to read
10 Korean War Facts You May Not Know
Click Here
CHECK OUT THE NEWSLETTER LINK ON THE TOP MENU. CURRENT AND PAST NEWSLETTERS AVAILABLE
Our purpose is to honor all Veterans who served with the 13TH ENGINEER COMBAT BATTALION, especially those who gave the Supreme sacrifice.  We wish to use this site to inform those who served of the opportunity to join the 13TH ENGINEER COMBAT BATTALION ASSOCIATION, post photos, share reunion information and help us locate our army buddies.
If You served in war or peace, we would be honored to have you as a member!
Please sign our GUEST BOOK using the link below.  You are important to us. Let your friends know you are out there!
How To Join
Click the button below and follow the form directions.
Dues $5.00 per year (paid two years at a time)

Membership includes
Newsletters 3 times a year (approximately 20 pages)
Members access to the website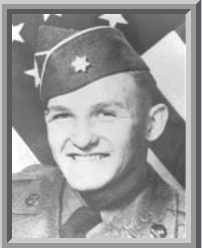 United States Army Medal of Honor recipient.
Corporal, U.S. Army, Company A, 13th Engineer Combat Battalion, 7th Infantry
Division
July 10, 1953
CURRENT MEMBERS PLEASE SEND YOUR DUES TO:
Make checks payable to
13TH ENGINEER (C) BN ASSOCIATION
MAIL CHECKS TO:
GENE REED-TREASURER
8833 PRAIRIE TRAIL
AVON, IN 46123-1453
Korea Military History Anniversaries in October
Oct. 5
1950: Just a few short weeks after the U.S. military had its back to the sea in the Pusan Perimeter, the tables have completely turned. Lt. Gen. Walton H. Walker's Eighth U.S. Army issues orders to cross the 38th Parallel into North Korea. The communist capital of Pyongyang will soon be in allied hands, but China has threatened to join the war if the United States invades North Korea.
Oct. 9
1950: As the U.S. military crosses into North Korea, Pfc. Robert H. Young and his fellow troopers of the 1st Cavalry Division are spearheading an assault. Young is wounded once by an enemy barrage, but he refuses medical treatment and remains on the line. He is wounded a second time, and is awaiting treatment when the enemy threatens to surround the Americans. Young rejoins the action and, from an exposed position, kills five enemy soldiers. He is hit a third time, but remains on the field – directing friendly tanks to destroy enemy gun positions. Young is hit by an enemy mortar blast while he is treating his fellow wounded soldiers, but despite his multiple grievous wounds, he instructs the medics to help the others first.
Pfc. Young will perish from his wounds on November 9, 1950, and is posthumously awarded the Medal of Honor.
Oct. 10
1950: As the 1st Cavalry Division crosses the 38th Parallel near Kaesong, helicopter crews with the 3rd Air Rescue Squadron apply plasma to a rescued pilot for the first time as they return to base. During the Korean War, members of the Air Force's 3rd Air Rescue Group will rescue thousands of downed aviators.
Oct. 11
1945: Marines of the III Amphibious Corps land in China to assist in repatriating hundreds of thousands of Japanese and Koreans and to protect American lives and property. By the time the Marines depart China the following year, 35 have been killed and 43 wounded in clashes with Mao Zedong's Communist forces.
Oct. 19
1950: Troopers with the 5th Cavalry Regiment enter Pyongyang, capturing the North Korean capitol. The following day, the 187th Regimental Combat Team will conduct two parachute drops north of the capitol to cut off retreating North Korean forces. The Communists will recapture Pyongyang on Dec. 5, after China joins the war.
Oct. 20
1951: A day after having 83 pieces of shrapnel removed from his body, and still badly injured from bullet wounds received during six days of constant fighting, Master Sergeant Woodrow W. Keeble (USA) refuses to let medics keep him out of the fight. When his company is pinned down by enemy fire while assaulting Hill 765 near Sangsan-ni, Korea, the badly wounded veteran of the Guadalcanal campaign and now platoon sergeant courageously crawls forward alone and silences three machine gun positions with grenades and automatic rifle fire. Originally awarded the Distinguished Service Cross – paperwork recommending him for the Medal of Honor kept getting lost – Keeble will be eventually awarded the Medal of Honor in 2008, 26 years after his passing.
Oct. 24
1951: In the skies over Korea, 150 Russian MiG-15 fighters intercept a formation of B-29 bombers and 55 F-84 Thunderjet escorts. The Communists manage to shoot down four of the B-29s and one escort, but at least eight MiGs are lost in the largest air battle of the Korean War. The sortie will be the last daylight bombing raid for the B-29.
Oct. 25
1950: Well over 200,000 Chinese Communist troops attack UN forces in their first assault of the Korean War. The Chinese force withdraws to the mountains and when they attack again one month later, they will drive the American-led force all the way back to the southern tip of the Korean peninsula.
Oct. 26
1950: The First Marine Division lands at Wonsan, Korea and moves north toward the Yalu River. In a month, they will be attacked by 10 Chinese divisions and have to fight their way out of the Chosin Reservoir.
Meanwhile, Republic of Korean (South Korea) forces arrive at the Yalu River and learn that two entire Chinese Armies have already crossed into Korea.
Our President Arlie Ellis and Vice President Gene Reed and their spouses recently went to Indianapolis to check out Hotels and activities available for the upcoming 13th Engineer (c) Battalion reunion this next September in 2020.
As everything get finalized, we will post that information and have it in the newsletters.
Please tell your friends and old army buddies about this website. Look at the photos and check the company rosters for people with whom you may have served.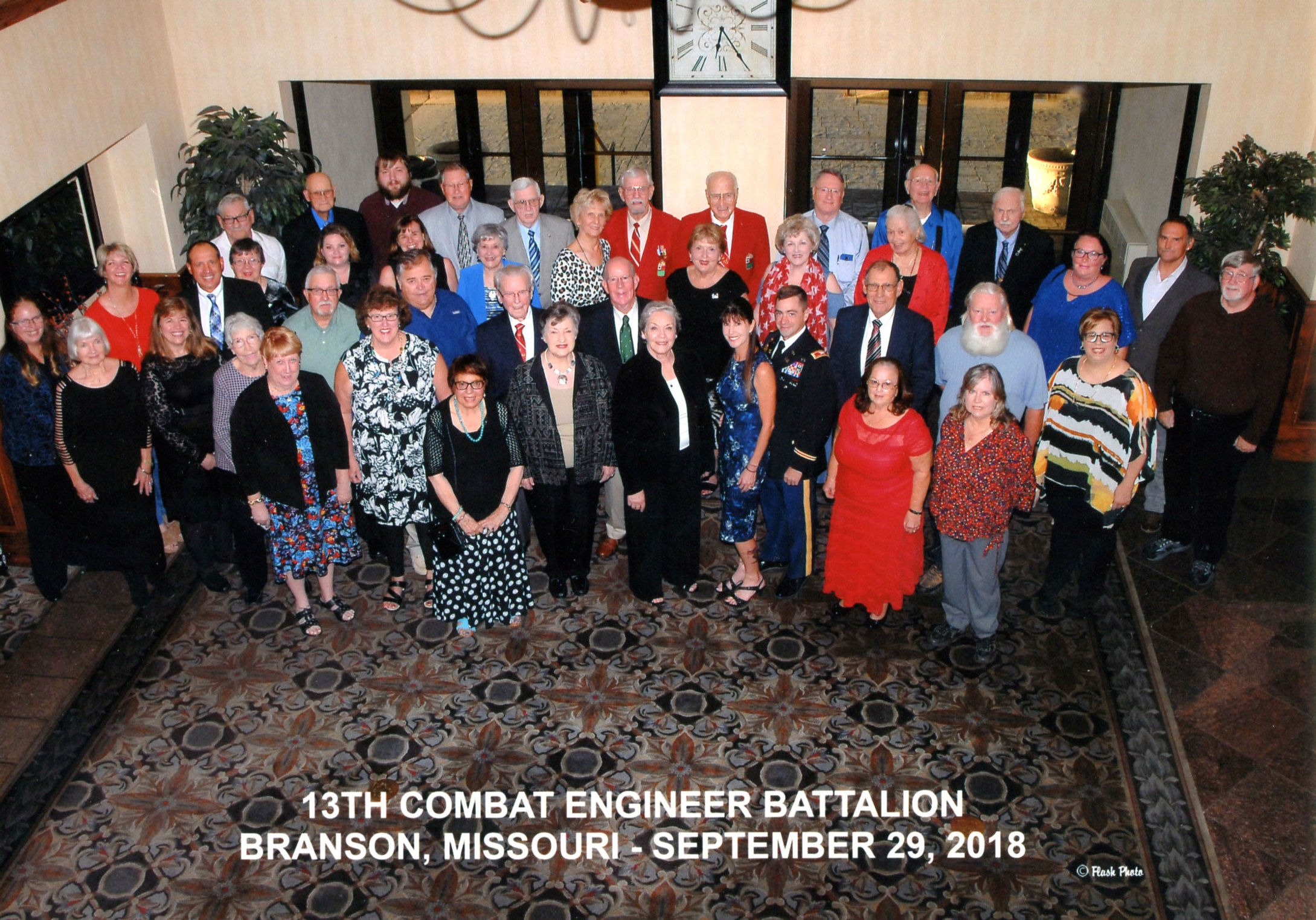 2018 Reunion Branson MO
© Photo by Flash Photo Branson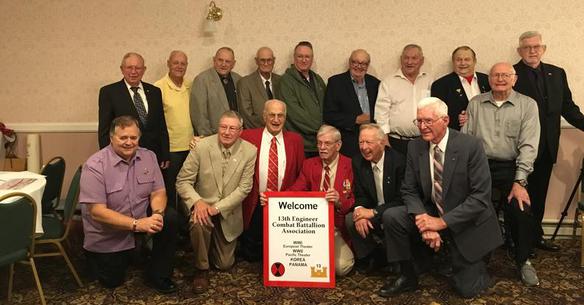 2016 Reunion The Dells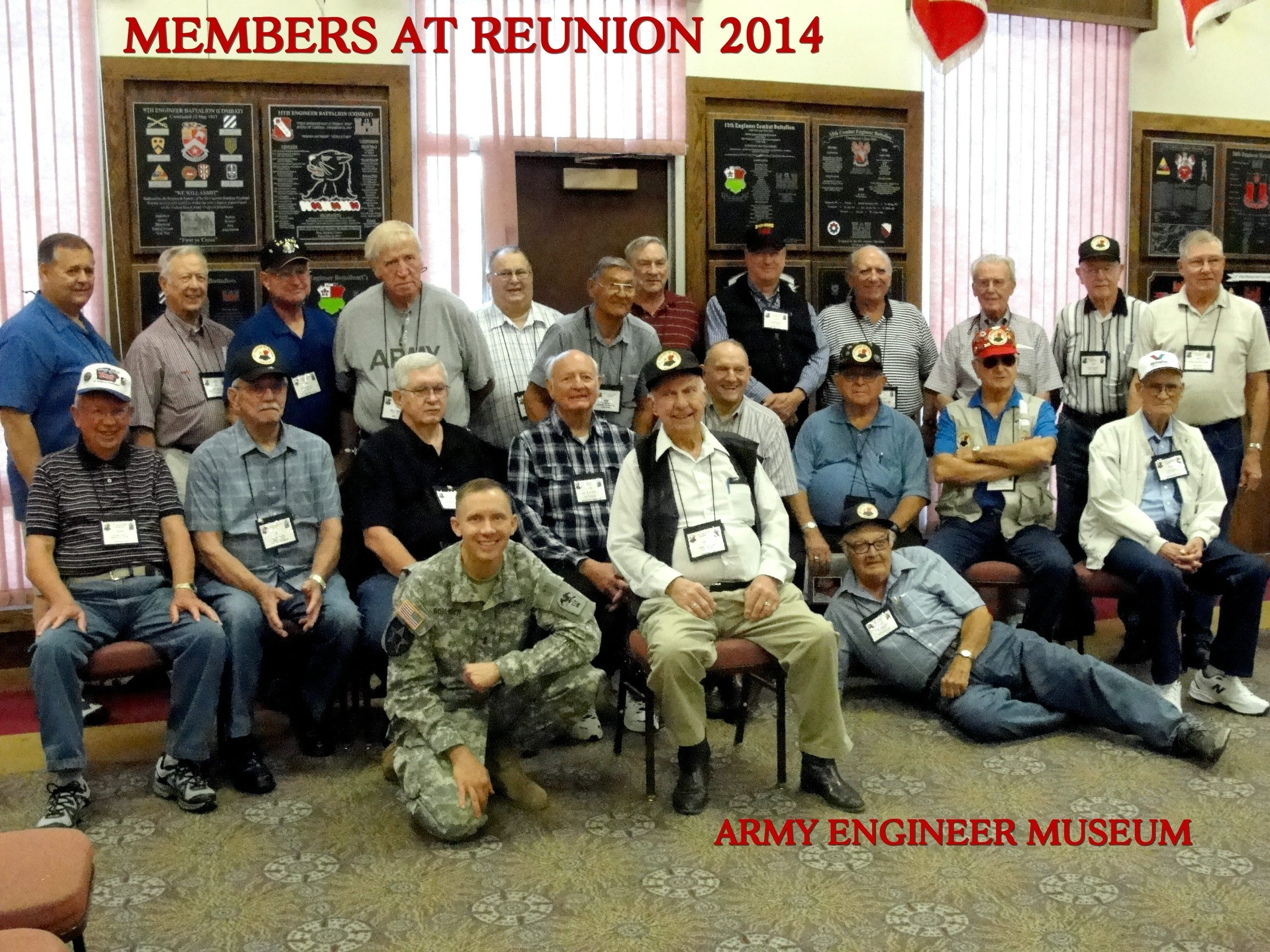 2014 Reunion Fort Leonard Wood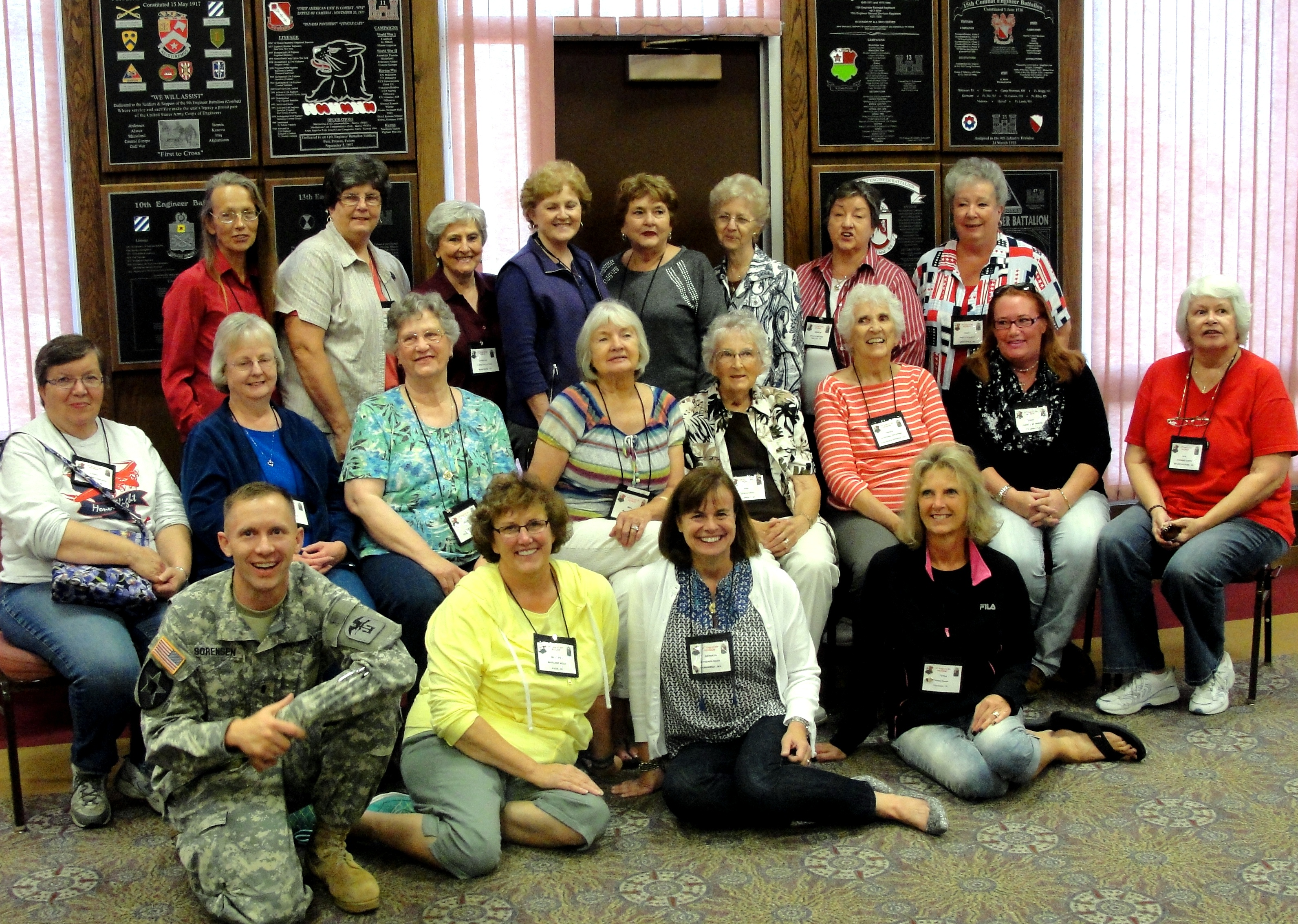 2014 Fort Leonard Wood Ladies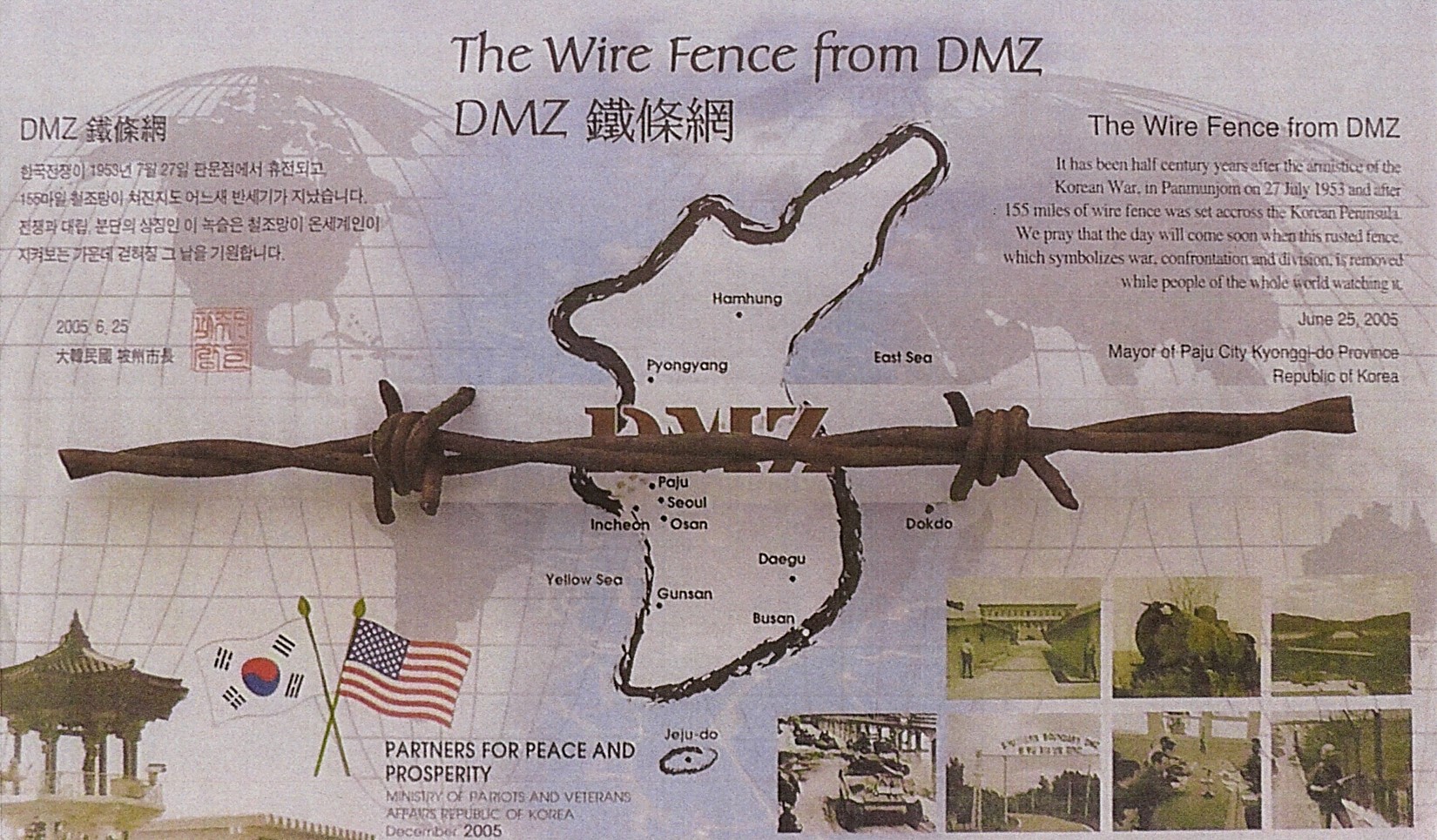 Wire From Fence on DMZ
" Welcome New Members "
William C. Anderson Served with Company D 55-56
Richard E. Schmidt  Ph.D. S-2 ,Recon Plt 1952