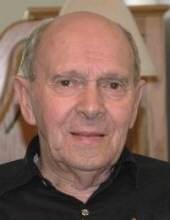 13th Engineer (C) Battalion 7th Infantry "D" Company 1952-1954
Arnold L. Banik, 86, Aberdeen, died Wednesday, August 15, at Avera St Luke's Hospital, Aberdeen.
Arnold Levi Banik was born April 1, 1932 in Aberdeen, SD, to Gottlieb and Fredarica (Wolff) Banik. He grew up and attended school in Tolstoy, SD.
In the late 1940's and early 1950's Arnold worked for the Ice Plant. He also worked for Farmer's Lumber before he enlisted in the Army in 1952. He served in Korea and was honorably discharged in 1954. Arnold worked at Red Owl and handled out-of-town deliveries for Burkhard's North Side Bakery. He also worked for Don Harry Electric and had a part-time Star Mail route.
Arnold married JoAnne Thennis on January 28, 1952 in Aberdeen, SD, where they called home, participated in the community and raised their family.
Arnold was a member of First United Methodist Church, where he enjoyed volunteering in many areas. He was also a member of the American Legion, the Moose Lodge. Arnold helped with Meals on Wheels. He enjoyed golfing and his participation in the band, The Country Gents.
Grateful for having shared Arnold's life are his children: Bill D. (Carol) Gates, Scott A. Banik and Debbie J. Banik, all of Aberdeen; grandchildren: Jason Banik (Jodi Raw), Jessica Banik (Chris McKeon), and Kelly Banik; great-grandsons, Asher & Kael.
Preceding Arnold in death are his wife, JoAnne Banik, his parents, Gottlieb and Fredarica Banik, brothers and sisters: David Banik, Elizabeth Banik, Edward Banik, Ella Marie Walli, Martha Banik, Ester Banik, Alvin Banik, Clarence Banik, Violet Banik, Wilbert LeRoy Banik, Arlene Bernice Heckman.