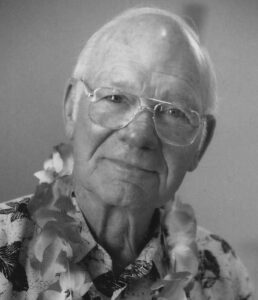 13th Engineer (C) Battalion 7th Infantry "H&S" Company 1946
AUGUST 16, 1926 – MAY 19, 2017
Harold W. Sprague, a Ventura resident since 1949, passed away on Friday, May 19 at the age of 90. Born in Kansas City, Kansas to Vernal and Lillie (Eisman) Sprague, Harold spent his early years on the family farm in Buffalo, Missouri. He came to California as a young child, settling in the town of Exeter.
From an early age, he held a variety of jobs that included delivering newspapers by airplane to remote farms and ranches in the San Joaquin Valley, driving a school bus at the age of 16, and working as a market clerk, butcher, construction worker and truck driver. Following graduation from Exeter Union High School, he joined the Army Infantry in the last year of World War II. Following the end of the war, he served with the 13th Engineer (C) Battalion in South Korea as a Heavy Equipment Foreman with the rank of Staff Sergeant.
Working with construction equipment to maintain the roads, he and his Army crew often unofficially assisted South Korean farmers on small projects that would have been difficult or impossible to complete by hand. Returning to Exeter in 1948 following his military service, Harold married Doris Cameron and the two soon moved to Ventura where Harold took a job with Hilford Moving and Storage. He saw most of America from the cab of a moving van. Following the birth of their first child, Harold took a job with Southern California Edison, beginning a career that lasted until his retirement 36 years later.
He began as a Substation Operator at the Saticoy Substation, eventually becoming Station Chief. He transferred as Station Chief to Olinda Substation in La Habra and was then asked to teach at the Substation Training School in Alhambra. Subsequently, he came back to Ventura County as the Station Chief at Santa Clara Switching Center, followed by a position as Supervisor of Substation Maintenance in Santa Paula, from which he retired in 1988.
Long before the term "entrepreneur" became popular, Harold epitomized the entrepreneurial spirit. Throughout his lifetime, in addition to his full-time career, he established and ran numerous companies, most related to oil field services. An interest in restoring antiques led him to what could be considered his second "official career"— an expert on antique phonographs and a gifted antique restorer.
He taught himself the art of metal machining when he found that many of the mechanical pieces required to restore some of the phonographs were not available. His workshop was often full of turn-of-the-century phonographs sent to him for restoration from across the nation and around the world. He enjoyed the variety and challenge of the work required for antique restoration.
"You've got to be a mechanic, a carpenter, a wood finisher and a body-and-fender-man," he said. Harold shared his values with his family by exemplifying them in his own life: Be honest. Work hard. Make your word your bond. Be kind. Take care of others in both great and small ways. He is survived by his wife of 68 years, Doris O. Sprague, and his children Holly (Jack), Steven (Patti) and Staci (Al), his grandchildren Tyler (Leila), Justin, Sarah, Tony and Sara, and his