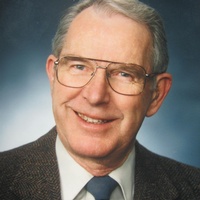 July 1, 1928 – March 11, 2018
1st Lieutenant 13th Engineer Combat Battalion, 7th Infantry Division
Dean C. Engel, retired founder of Communication Sciences & Disorders, passed away March 11, 2018, in Grand Forks, surrounded by family. He was 90. 
Dean Courtney Engel was born July 1, 1928 in Kenmare, ND to Otto and Gladys Engel. While Dean began his academic life in a small rural school, he demonstrated an early love of learning and was actively involved in multiple pursuits including sports, music, and Scouting, eventually earning the rank of Eagle Scout in 1944. He attended Minot State Teachers College, the University of North Dakota, Case Western Reserve and received a doctorate degree from the University of Minnesota. 
Dean served 3 years in the Army as a 1st Lieutenant during the Korean conflict with the 13th Engineer Combat Battalion, 7th Infantry Division. He was awarded a Bronze star during his deployment on Pork Chop Hill. 
After completing his military service, Dean came to the University of North Dakota in the mid-1950s seeking a graduate degree in speech.
Ten years later, in 1967, he returned to UND and founded the UND Department of Communication Sciences and Disorders, serving as the department's chair for its first 11 years.  He continued to build the department's undergraduate and graduate programs until his retirement as Professor Emeritus in 1993. 
In 1983 Dr. Engel wrote the communication disorders departmental history, which is available at the Elwyn B. Robinson Department of Special Collections. 
In 1988, to draw attention to inadequate faculty salaries, Dr. Engel established a limerick contest and offered his rusty 1973 Mazda RX2 as a prize for the winner. The limericks submitted were published in a book titled "The Dirty Shame" in the year 1988-1989. The North Dakota Conference of the American Association of University Professors prepared the publication. 
Dr. Engel was a tall man, so tall that the next professor to occupy his office could hardly reach halfway up a cork board in the office. 
He served as President of the North Dakota Speech-Language and Hearing Association and was elected a Fellow of ASHA. His work helped make UND a nationally recognized school of excellence in speech-language pathology and audiology. He retired from UND in the spring of 1993.
In his leisure time, Dean enjoyed fishing, boating and spending time with his family and dog at their lake cabin on beautiful White Earth Lake, MN. 
Dean is survived by his wife, Katherine Jean Thomas of Thief River Falls, MN, children, Chris, Scott, Paul, Peter, Betsy, and grandchildren Caroline, Nicholas, and Max. He was preceded in death by his parents, Otto and Gladys Engel and his sister Jean Rohrer.
A memorial service was held Wednesday, March 13th at Amundson Funeral Home, Grand Forks, ND. 
In lieu of flowers, memorials are welcome to the Dr. Dean C. Engel Scholarship Endowment, Department of Communication Sciences and Disorders, UND Foundation, Grand Forks, ND 58202. Please follow this link https://undalumni.org/pages/giving-search—school-of-as and search for the endowment using the last name "Engel."