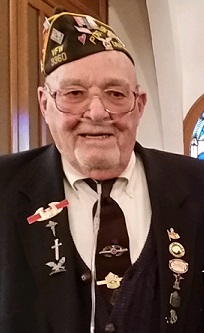 DECEMBER 7, 1928 ~ OCTOBER 27, 2018 (AGE 89)
Charles H. Marihugh, 89, of Defiance, passed away on October 27, 2018 at Twin Rivers Care & Rehabilitation Center.
He was born on December 7, 1928 to Vernon and Mildred (Griner) in Defiance, OH. Charles served his country in the U.S. Army during the Korean War. He worked as a welder and crane operator for Challenge Cook Bros. Inc. for 30 years. Charles retired from Dick Gray Fabrication in 1995. He was also employed with J.C. Penny Co., in Defiance since 1988. On April 20, 1952 Charles married Eva Mae Weisz who preceded him in death on November 25, 2003. On July 10, 2004 Charles married Louise Fockler.
Charles was a member of the, American Veterans (AMVETS) Post 1991, American Legion #300 Napoleon and a Life Member of VFW #3360.
Charles is survived by his loving spouse of 14 years Louise of Defiance, Ohio, son, Jeffrey (Betty) Marihugh of Napoleon, OH, grandchildren Andrew (Megan) Marihugh and Sarah (Ted) Stover, great-grandchildren, Grant and Benjamin Marihugh and Charlie and Molly Stover, sister, Ruth (Paul) Warnimont of Defiance, OH and brothers, James (Grace) Marihugh of Delphos, OH, Dave (Monique) Marihugh of Manchester, NH and Peter (Mary) Marihugh of Defiance, OH.
He was preceded in death by parents, wife, Eva Mae Marihugh and great-granddaughter, Riley Susan Marihugh.
Burial with Military Honors conducted by VFW #3360 will take place at Riverside Cemetery.