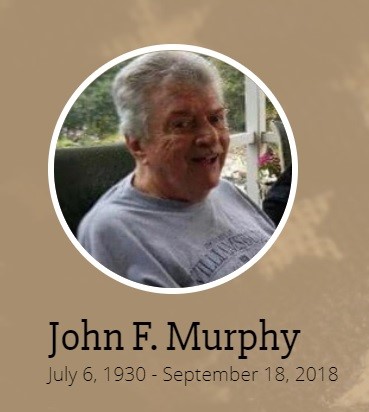 John F. Murphy, age 88 of Frankford, DE formerly of Waldorf, MD passed away with his family by his side on Tuesday, September 18, 2018 at Beebe Healthcare in Lewes, DE.
John was born in New York City, NY on July 6, 1930. He proudly served his country in the United Sates Army from 1950-1970. He was stationed in Korea, Panama, Germany and Vietnam and received the Bronze Star, Korean Service Medal, Vietnam Service Medal and the National Defense Service Medal with Oak Leaf Cluster. He retired from the Army on July 1, 1970 with the rank of a Platoon Sergeant E-7. John had also served as the ROTC Instructor for Carnegie Tech in Pittsburgh, PA. After his discharge from the service he was hired as a US Capital Police officer in Washington, D.C. and retired after, 23 years and moved to Delaware. In Delaware he became active in several organizations.  He was a member of the Mason Dixon VFW Post #7234 in Ocean View, DE where he had served as the Captain of the honor guard, the America Legion Post #24 in Dagsboro, DE, Elks Lodge #2645 in Ocean City, MD, East Sussex Moose Lodge #2542 in Roxana, DE and the Fraternal Order of the Eagles #4528 in Clarksville, DE. John loved fishing, traveling, spending time with his family and enjoying a nice cold beer. He was extremely proud of his Irish heritage. He was an independent man that did things his way and lived and loved his life to the fullest
He is survived by his loving wife, Susan E. (Davidson) Murphy; six children, Lynn Morris (Keith) of Cambridge, MD, Kathleen Garcia of Mechanicsville, MD, John Murphy of Bowie, MD, Joseph Murphy of Oxon Hill, MD, Thomas Murphy of Leonardtown, MD and Janet Brink ( Bill ) of Tampa, FL and five grandchildren, Ryan Garcia, Kellie Murphy, John Raymond Murphy, Haley Brink and Nicholas Brink.  He is also survived by two great grandchildren, Alexis Garcia and Farissa Hubbard; a brother-in-law, Jeffrey Davidson and his wife, Velma of Ft. Myers, FL; a niece, Shannon Ditzel of Arnold, MD and her two children, Dominic and Chris Ditzel.