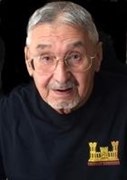 Fayetteville—Mr. John Riverra Menor, 86, of Fayetteville passed away on Monday, March 25, 2019.
He is survived by his wife, Yoko of the home; three daughters, Maryann Bishop (husband Glen), Kimmie Menor (husband Tim Kennedy), Caroline Miller (husband Scott), a son, George Menor (wife Ana) and children by marriage; Diana Carteret (husband Dale) and Eddie Dean (wife Sabrina).
Eight grandchildren, Nicole, Matthew, Andrea, Gabriela, Diego, Bryce, Zenas and Justin.
Three great grandchildren, Kaitlyn, Kalei and Andrew.
And six siblings, Lenora Achay, Primasita Menor, Braollio Menor (wife Joyann), Gerry Menor (wife Crizen), Chona Rosuman (husband Robert) and Primo Menor (wife Elizabeth).
John served proudly in the US Army, the Naval and Army Reserves for over 22 years, including two tours of Korea and three tours of Vietnam. He was a loving husband and will be missed by all who knew him.
A Graveside Service with full military honors will be held on Monday, April 1, 2019 at noon at Sandhills State Veterans Cemetery. The family will receive friends prior to the service at Rogers and Breece Funeral Home from 10 to 11:15 a.m.