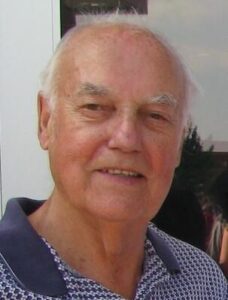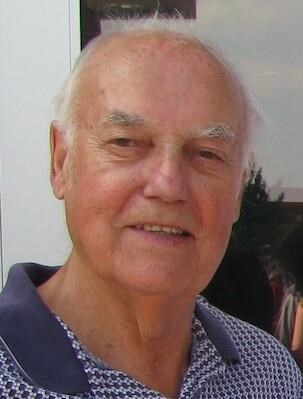 13th Engineer (C) Battalion 7th Infantry "A" Company 1952-1953
John Samuel Marita, age 91, of Mequon, died peacefully in the care of St. Camillus Retirement Care Home on October 23, 2020.
John was preceded in death by his loving wife of 52 years, Mary, and his daughter, Dr. Jane. He is survived by his daughter Peg, and sons John (Lisa), James (Lori), Greg (Chris), David (Anita); grandchildren Justin (Leah), Michael (Sydney), Luke, Caleb (AmyJo), Megan, Logan, Ryan, John, Quinn, and Drew; great grandchildren Juniper, Nora, Finley, and Mary; siblings Agnes (Robert), Floyd (Glenda), Joe (Barb), and Martin . Further survived by many relatives and friends.
He was born at home on the family farm near High Bridge, Wisconsin on January 25, 1929, the eldest son of John and Elizabeth (Broeniman) Marita. He grew up on the farm and throughout his life had a great love of trees, plants and gardening as evidence by his on-going wars against "those dam__ rabbits" and his penchant for digging up plantings and saplings found along country roads for transplanting in his acre yard.
He graduated from Mellon High School and then Northland College in Ashland with a BS in mathematics that was almost in history and almost (gasp) in music.
John then served and saw action as an engineer in the Korean War in Company A, 13th Engineering Combat Battalion, 17th Infantry Regiment, 7th Infantry Division. He was a lifelong member of the VFW and later also joined the American Legion.
After the war, he earned a Master's degree in mathematics education from Colorado State College and found his vocation as an educator teaching first in Mosinee and then Monona Grove (Wisconsin), before eventually settling in Mequon (Wisconsin), where for twenty-seven years he chaired and taught in the mathematics department at Homestead High School. John knew that as much could be taught with stories, hallway singing, self-created vocabulary and pontificating as could be with chalk and textbooks. Generations of Homestead Highlanders bear witness to the wisdom of his approach.
John was a person of religious conviction but also deep faith. He was always active at his Catholic parish St. James (Lumen Christi) and enjoyed serving on boards, councils, the Knights of Columbus and as a lector and lay minister. He spent time daily in prayer and spiritual reading allowing his religion to inform his spirituality but not dictate it.
John absolutely loved discussing and arguing politics and in less polarized days derived great enjoyment from the art of trying (and failing) to school his misguided friends just as they tried (and failed) with him. A favorite highpoint was when he stuffed peanuts into the faculty mailboxes in honor of Jimmy Carter's election.
John was a special, joyful, and loving soul who led an amazing life. He will be missed by so many whose lives he touched in large and small ways. In life, John enjoyed waving at people in the cars that went by as he took his walk, just to make them smile. Surely, he continues to wave down at us all…just hoping to make us smile.