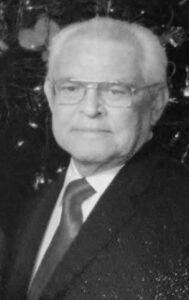 Julian "Jay" Candelaria
Julian "Jay" Candelaria died on June 2, 2020 in Brea, CA. Jay was born Dec 05, 1931 in Alamosa, CO, to Julian Candelaria Sr and Cordelia Olinda Valdez. He was raised in Mogote, Colorado until 1943 when the family moved to El Paso, TX where his Dad worked in Office of Censorship. In 1944 the family moved to Arizona and later to Torrington Wyoming. Jay at this time was in 8th grade, he graduated from Torrington High School in 1950. He worked in seismograph crews in various areas for gas exploration,
1952-54. He served honorably in the U. S. Army, and saw action during the Korean conflict.
On August 18, 1956 he married Julie Marcoux. They were currently residing in Placentia, CA. Julie and their three children, Erin, Karla Parra, (Armando) and Eric (Kim ), two grandsons Jake and Sam Candelaria, and a very special family friend, Virginia Arteaga, who called him "papa," survive him. A beloved son Karl John died in December of 1971.
A long time resident of California, Jay was employed from 1954 – 1966 by Pacific Finance Corporation (Commercial/Personal Finance. From 1966 – 1975 he was employed by Union Bank, Los Angeles, as Vice President & AVP, From 1975 – 1987 he served the Commonwealth Bank, as President & Chief Executive Officer and Director. From 1974 to 2020 he served on various Boards , as Board of Directors: TELACU, TELACU Industries, Community Commerce Bank, TELACU Community Capital, Senior Housing. Jay cherished memories of his grandparents from San Luis, Juan Ramos and Gavinita Rodriguez Valdez (newspaper editor/owner and San Luis Postmaster). He was especially fond of his Mogote friends who he considered family, Albert and Josefa Valdez Gallegos, Emma Valdez, Rupert and Estefana "Tana" Valdez Casias, Abel (godfather) and Melita Valdez, and their extended families, who he visited practically every summer while he was able. He loved them all and he loved fishing the Conejos River.
Rest High on that Mountain Jay, Your work on earth is done.