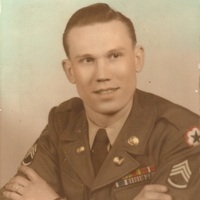 13th Engineer (C) Battalion 7th Infantry Headquarters Company 1952-1953
Milan "Mitch" Vein, of Neenah, Wisconsin died April 2nd, 2020 at the age of 95. Born in Steubenville, OH, on August 30, 1924, the oldest son of Dobre "Pete" and Milija Vein, Mitch was proud of being a first-generation Serbian American. He was a farm boy at heart and loved to tell stories of his life and growing up during the Great Depression. He was an avid reader of history and had a vast collection of history and military books that he read and re-read. He loved to share his knowledge and life experiences with those around him.
On May 5, 1956, he eloped with the love of his life, Ruth to Reno, Nevada to marry. They shared 63 wonderful years; they spent their life together in California, Alaska, Washington, Montana and Wisconsin.
Mitch served in the military for over 20 years. He joined the Navy in 1943, serving in World War II. He then served in the Army including serving in the Korean War. After retiring from the military, he was a Deputy, a Constable, and a Civil Engineer (both privately and for the Forest Service). He was a master carpenter and designed and built beautiful homes. He taught woodworking classes at the University of Alaska. He was happiest when he was in his shop building something and he loved to share his love of all things woodworking. He spent numerous years volunteering for the American Red Cross and Habitat for Humanity. He was a volunteer EMT. He was active in his church (The Church of Jesus Christ of Latter-day Saints) and was always willing to help and serve others.
Mitch was preceded in death by his parents and six siblings, Josephine Hare, Anne Wukelic, Sam Vein, Eli Vein, George Vein and Pete Vein.
Mitch is survived by his wife Ruth, of Neenah and their seven children; Jennifer (Richard) Schwender of Olympia, WA; James (Anita) Vein of Provo, UT; Julie (Lio) Fenumiai of Port Angeles, WA; John Vein of Florence, MT; Jason Vein of Longview, WA; Joanna (Tom) Grotenhuis of Neenah, WI; and Jessica Vein of Alpheretta, GA; three siblings, Joseph Vein of Steubenville, OH; Martha Vein of Steubenville, OH; Dorothy (Cliff Stull) Jewett of Steubenville, OH; twenty-five grandchildren, 13 great-grandchildren; sister in-law, Thelma Vein; and numerous nieces and nephews.