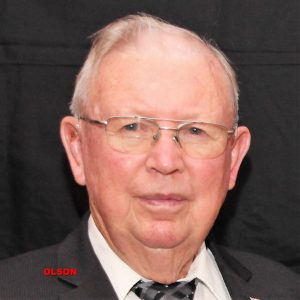 Quinton Richard Olson, 89, of Clermont, Iowa died Thursday, May 3, 2018 at University of Iowa Hospitals, Iowa City, Iowa. Quinton was born August 24, 1928 to Clarence H. and Rose L. (Thorson) Olson in West Union, Iowa. He graduated from Clermont High School in 1946 and attended one year at Luther College in Decorah, Iowa. Quinton joined and proudly served in the United States Army from 1953 and was honorably discharged 1955. Then he returned to farm the family farm until his retirement
Quinton was united in marriage with Arlene Medberry on November 7, 1953 at St. Paul's United Methodist Church in Elgin, Iowa. Two children were born to this union. Quinton was on the Clayton County ASCS Committee, Cattlemen's board at the county and state level, Valley Coop Board, a 4-H Leader for sixteen years and was a Grand Meadow Township Trustee. He was a life-long member of East Clermont Lutheran Church, where he taught Sunday School and served on several church boards. Quinton worked at Schutte-Grau Funeral Home from 1984 until his passing.
In his free time, Quinton loved to travel, camp, and spend time outdoors. He spent many summer days watching ships come in on Lake Superior in Two Harbors Minnesota which he thoroughly enjoyed.  Quinton loved people and enjoyed socializing with everyone he met.  Most of all, he loved his family and spending time with them.
Quinton is survived by his wife, Arlene Olson of Clermont, Iowa; two children, Teresa (Joel) Kaasa of Nora Springs, Iowa and Terry (Brenda) Olson of Postville, Iowa; four grandchildren, Ty (Jessica Hein) Koehn of McGregor, Iowa, Traci (Cole Muhlenbruch) Koehn of Mason City, Iowa, Kylee (Travis) Uhlenhake of Decorah, Iowa and Kynzee (Ashley Cioccio) Olson of Postville, Iowa; one great-grandson, Tate Koehn; sister-in-law, Verna Medberry of West Union, Iowa; niece and nephew, Polly (Bruce) Pattison of Urbandale, Iowa and Rob (Dawn) Medberry of Volga, Iowa.