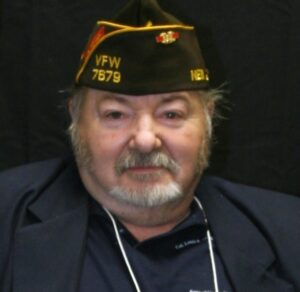 13th Engineer (C) Battalion 7th Infantry "E" Company 1962-1963
Wayne R. Johnson Wenonah, N.J. Wayne R. Johnson age 78, of Wenonah passed away on Thursday, October 19, 2017. Born in Woodbury to the late George Johnson and Florence Johnson (nee Duncan), he graduated from Woodbury High School in 1957 where he participated in wrestling and baseball.
Wayne was a U.S. Army veteran who served from 1961-1964. He was a steamfitter at Texaco Eagle Point Refinery where he served as president of the OCAW until the company merged with Coastal Oil in the mid 80's. Wayne retired in 2008 from Gloucester County where he served as the Assistant Superintendent of Buildings and Grounds. He was an active member of his community, and a member of the South Jersey chapter of the Vintage Chevrolet Club of America Inc, Clayton VFW-Harold K. Costill Post 1801, American Legion Post 192 in Wenonah, past camp commander of the Col. Louis R Francine Camp No. 7 Sons of Union Veterans of the Civil War, a 7th New Jersey Volunteer Infantry Sons of Veterans Reserve, and a Compatriot of Pvt. Meredith Pool Camp No. 1505 Sons of Confederate Veterans.
In his spare time, Wayne enjoyed participating in the lives of his children & grandchildren. His love of history was reflected by his participation in Civil War re-enacting, assisting beginner genealogists by offering his knowledge and skills in historical research and other activities involving the preservation of history. Wayne assisted his daughters with application into the Daughters of The American Revolution by proving 8 generations of direct descend to his Revolutionary ancestor William Moulder who resided in Philadelphia.
During that time he assisted in establishing American Independence while acting in the capacity of 2nd Lieutenant in Thomas Robinson's Co, Col. Anthony Wayne's 4th Pa. Battalion, March 15, 1776. Husband of the late Sun Hui Johnson (nee Song), he is survived by his daughters, Debbie Simpson (Walt), Sharon Cawley (Doug), Karen Cromwell (Matt), Margret Whiteway (Nick), grandchildren, Meredith, Colleen, & Rachel Simpson, Matt & Sean Cawley, Colton Johnson, and Sunni, Brentlee, & Macenzie Cromwell, his sister Patricia "Patsy" Ryan, and his niece Patricia Wernet (Scott) and their daughter Brooke.